LHP vs RHP are they both "bad" or "faulty" paths?
05-16-2016, 11:30 PM
Post: #31
The church goers I speak of were Christians.
---
05-16-2016, 11:39 PM
(This post was last modified: 05-16-2016 11:42 PM by Ewemagus.)
Post: #32
Ewemagus
Magician


Posts: 159
Joined: Apr 2016
Reputation: 1

A Church goer claims to be a Christian, but their deeds proves there are not. For the fact that one claims to be a Christian doesn't truly make him one. It is your deeds which proves whether you are a Christian or not.

---
A true Christian is one who follows the teachings of Jesus Christ. Church goers only go to church on Sundays, and pride themselves as Christians. But don't follow the true teachings of Christ.
05-17-2016, 04:08 PM
Post: #33
Astral Eye
Tenured


Posts: 2,326
Joined: Oct 2012
Reputation: 18

I still have a problem with the term grey magic as it suggests that you can class magic based on some kind of moral viewpoint. Magic in all its shapes and forms is magic - it cares little for human views on morality.
---
05-17-2016, 07:10 PM
Post: #34
Ewemagus
Magician


Posts: 159
Joined: Apr 2016
Reputation: 1

Astral, it all depends on the goal or aim of a mage for practicing magic. The various classes or paths of magic is dependent on the morality of a mage, since that determines his general aim or goal for getting into magic.
05-21-2016, 11:53 AM
Post: #35
I'd define "black magic" as magic used to go against nature/god, as opposed to being in line with it. To me it has nothing to do with morality.
06-02-2016, 01:11 AM
Post: #36
Magick. Life. Energy. Left hand path. Right hand path.
I live life, and I practice magick. I believe what I want. They said it is magick but I said it is life. They said magick is evil and I said life is cruel.

Some has said, laws of karma, and I said rules of life.
Can someone tell me what wrong has a young baby done to deserve starvation and we may relate it to the one who had a broken legs after demon was Sent to hunt him down for the evil he has perpetrated.

Magick is life and life is magick. There is no right or wrong. There is no good or bad.
Magick is sword. I can deside to use a knife to cut plantain , potatos,or bread. Better still I can use the same knife to stab a bastard in the heart, and then he will have heart break.

If you said magick is bad then I will insist that life is cruel.
There is no right or wrong way to using magick And there is no right or wrong way of living life.

This is where I stand.
It is only how you influence the life you live that can point good or bad. I may use a knife to kill a terrorist. Don't say I kill rather I did my nation some Good.
If you jugde me that I perform certain type of Magick you may be judging wrongly.

Now learn.
The almighty God uses the angels and archangels to devastate the Land of Egypt, in order to do good to the children of israel,and the Bible said God is righteous and there is no evil in him at all. And the famous angels have hands in it, consider it any way you want to see it,i mean Michael, Raphael, Samael, Gabriel, down to Uriel the storm maker.

I hope there are no archangels on these forum.
06-02-2016, 07:27 AM
Post: #37
Warcloud
Wizard


Posts: 536
Joined: Oct 2015
Reputation: 14

2 words my friend: Hegelian dialectic. (Thesis + antithesis = Synthesis)
So if the LHP is -1 & the RHP +1, using the hegelian formula we would add (-1 ) + (+1) we would get 0 -in this case the middle ground.
In fact the QBL breaks down the path to be trodden on the tree by the would be magician or mystic.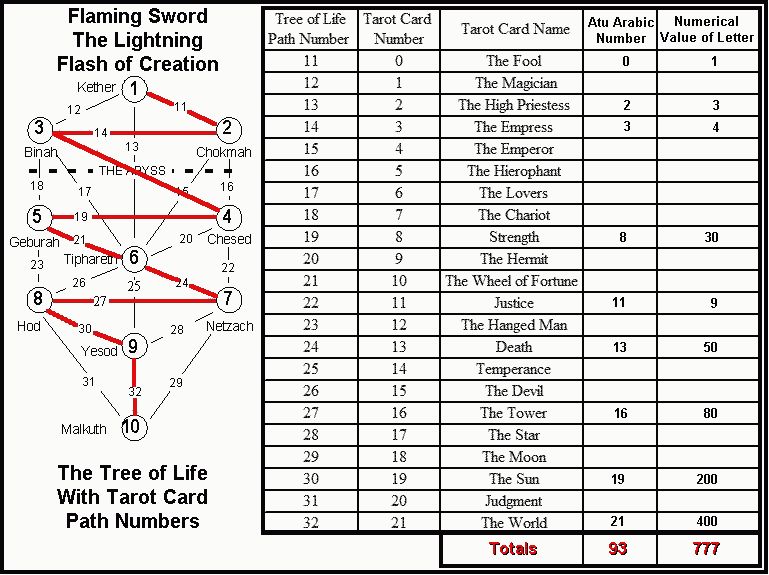 This they called the Flaming Sword which was decribed in Genesis 3:24 "After he drove the man out, he placed on the east side of the Garden of Eden cherubim and a flaming sword flashing back and forth to guard the way to the tree of life. Donald Michael Kraig spoke a bit on it as well.
Imo though, there is no better way to know good than to experience evil & vice versa. So in order to have mastery over everything (one´s self, the elements, the universe) we should partake of it all in all its glory & obscurities. Crowley best described the methods of overcoming the inherent inertia involved in going from left to right on the tree, amongst other things. See Magick in Theory & Practice
In the end, all things merge together to nothingness (ain/ain soph) but is not a thing a THING because it has an equal opposite that it can be compared to?
Sorry for being long winded here, just wanted to provide some clarification & add on to what was already mentioned by others. Peace
---
06-15-2016, 05:33 AM
Post: #38
kenpodragon
Magician


Posts: 214
Joined: Jun 2016
Reputation: 6

(05-16-2016 10:28 PM)

Ewemagus Wrote: If I heal a friend or loved one because they are sick, and I have the ability to restore their health, and I do so, with no intention of claiming honour or glory for that deed, you can't equate that good deed to selfishness.
People who follow the LHP much as they themselves fear death, don't hesitate causing the death of another person. This is different from a true RHP follower, who equally fear death, but contrary to the follower of the LHP,would as a result of that, never be the cause of the death of another person.
https://postmodernquaker.wordpress.com/2...sa-part-1/
What then did you call the crusades and inquisition - all done under the direction of the highest christian authority at the time?
But then you only need to turn the events of the past few days to see the darker side of the RHP - If Christianity is a religion of peace, how can you have "christian-extremeists" praising the attacks as a divine work of god?
http://myfox8.com/2016/06/14/sacramento-...ub-attack/
In my research and experience, I would say that more have died in the name of the RHP than the LHP has ever done (
http://rodericke.com/were-most-human-dea...ligion)...
---
06-15-2016, 11:29 PM
Post: #39
Y'know, this whole dichotomy of LHP VS RHP is a post-modern invention because I have yet to find it in any of the writings of the mages prior to the pre-1800's magic such as Agrippa or the Greek Magical Papyri.
Yes you do find talk about good and evil from a Christian perspective given in medieval grimoires but prior to that? Not that I've found nor heard from any scholars.
Personally, if
you choose
to use such labels then use them as a matter of convenience for your own actions and conscience instead of some arbitrary guide. That way you'll know it is you making the choice and not some philosophy guiding you.
06-16-2016, 10:30 AM
Post: #40
Finally I found a discussion in this matter. It is intresting to see how people even get over fifht for it. Defend either LHP or RHP with such a force, that it seems to me that they are more trying to enforce their Ego, than explaining the path they work with.

I work on LHP, have met both paths and selected LHP because it contained traditions where I feel much more comfortable, and I work more naturally. I think we have to ask why are we on this (Yes, be a god, or be one with god) but we are really here to do alchemy with ourselves. The idea off all this is to be better people, stronger people each day with our hard work, and also if possible to help other. That is independente of tha path. I know many off you have met that LHP magician that talk about he being the antichrist as man, and at the end they are the most tender and amazing people. Same with LHP magician. As happens that there is much identity with a path, but no real work with it.

The discussion is historicaly interesting, but at the end, if you die attached to it, you are dying with attachements, and I would say that you are far of achieving all your theoretical goals.

I would say the bad aren't the paths, we are. And not bad, Good and Bad is far away in my opinion from a spiritual worker, they aren't incorrect for our own's path.

Hope you all have a very productive rest off the weekend, and may your protectors be with you.
---
User(s) browsing this thread: 1 Guest(s)