05-26-2013, 07:48 AM
Post: #1
Lucifer91
Magician


Posts: 53
Joined: May 2013
Reputation: 2

In this topic, I shall give everyone a general idea about an amazing man who tried to change the world, yet his name was stolen, his name was forgotten and all his important inventions were put away. His name was
Nikola Tesla
Born in Serbia to a strict Orthodox priest father and a mother who didn't know how to read. His father wanted him to become a priest. However he did everything he could to get in a good college to learn about electrical/mechanical engineering and physics. He did really good at college that he over passed his professors, overworked a lot that the professors sent his father letters that says " warning that unless he were removed from the school, Tesla would be killed through overwork. "
Tesla dropped out of college, gambled all his tuition money and never received any credits from college.
He then ran from his family and friends to work as a draftsman making little bit of money. His father begged him to return home but Nikola refused. It is told that Nikola also suffered a nervous breakdown during that time.
He later educated himself with electrical equipment then decided to work for a disgusting company called Continental Edison Company in France. The company which was owned by the bad person Thomas Edison. Tesla used to make improvements for the machines in the company.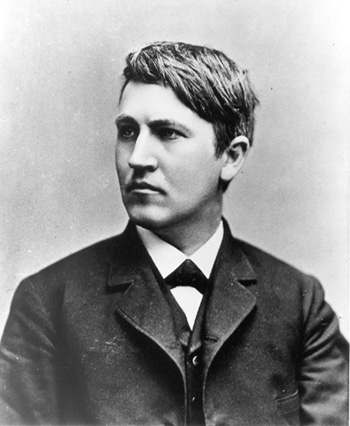 Then Tesla decided to go to New York and work directly for Edison. Edison received a letter from one of his employees that says " I know two great men and you are one of them; the other is this young man (Nikola Tesla) " Edison hired Tesla and quickly, Tesla solved so many of the companies most difficult problems. Tesla did an amazing job that he was even offered the task of completely redesigning the Edison Company. Edison was jealous and smart Tesla left the company by his own free will.
Later Tesla established his own Lab with the help of investors and after hard work and being patient working as a digger and struggling for more than a year. He then worked hard in his Lab and learned about Alternating Current (AC). He did a great job in his Lab that he discovered wireless power. As you can see in these pictures, he was holding a wireless bulb.
He later got his American citizenship and he valued it more than his inventions. Then his mother died which left him ill for two weeks and not feeling good. Tesla said that he saw her death through dreams and that angels were talking to him.
After that, he experimented with many amazing inventions like the X ray and the radio hoping to develop theories on them. Then he moved to Colorado springs to develop his Magnifying transmitter invention. An invention that would prove most important and valuable to future generations.
This is Tesla sitting in his Colorado Springs experimental station with his Magnifying transmitter with millions of volts surrounding him.
At his lab while he was experimenting, he received weird and unusual signals which he believed that the signals were from extraterrestrials coming from planet Mars. He later thought that his inventions can be used to contact other planets.
Tesla later built Wardenclyffe Tower, a tower that would transmit free wireless electrical energy to the entire world.
IMAGINE HAVING FREE WIRELESS ELECTRICITY FOR THE ENTIRE WORLD!
YES! HUMANITY SHOULD HAVE HAD FREE ENERGY LONG TIME AGO! But thank's to Thomas Edison, he stole us, stole Tesla name, made history worse, wrong and made humans become slave for him ( Edison ) and money.
Tesla later invented the death ray with other inventors. The death ray or peace ray was a strong beam projector that could be used to make WAR IMPOSSIBLE!
The death ray would bring jets down to the ground.
Example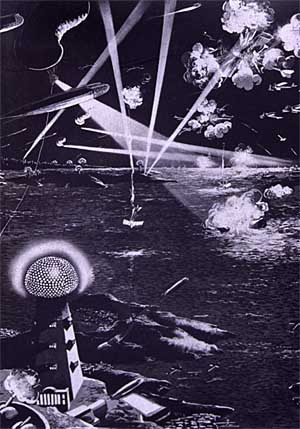 Just imagine with his death ray there wouldn't be more wars in this world.
Did you know that when Tesla died, ALL HIS WORK was taken away by the FBI telling the Alien Property Custodian to take all of his magnificent work away.
Now you guys tell me, who's the good guy ? the forgotten Nikola Tesla who gave humanity free wireless energy, taught us about contacting extraterastrials and made war impossible or Thomas Edison who stole everything and everyone by letting electricity cost money for his benefits and not caring about humanity.
DID YOU KNOW THAT ALBERT EINSTEIN CONGRATULATED TESLA FOR HIS WORK IN A LETTER BY SAYING " As an eminent pioneer in the realm of high frequency currents... I congratulate you on the great successes of your life's work. " .
Now who's the bad person ? Edison who stole us or Tesla who tried freeing us and tried giving us free energy ?
You decide based on what you learned at school.
05-26-2013, 08:14 AM
Post: #2
Moderator
Arch Mage


Posts: 1,661
Joined: Jan 2012
Reputation: 37

---
05-26-2013, 09:37 AM
Post: #3
Svarog
Mayhem Hotel Receptionist


Posts: 4,896
Joined: Jan 2012
Reputation: 70

Tesla is a real motherfucker... He discovered himself, above all else. Too bad we'll never get up there with him.
---
06-09-2013, 08:13 AM
Post: #4
William
Master Wizard


Posts: 1,335
Joined: Mar 2013
Reputation: 12

Intresting, thanks-.
---
09-07-2013, 12:42 PM
Post: #5
I love tesla. But his equations did make my life a living hell in college.
---
12-03-2016, 05:26 AM
Post: #6
aries
Wizard


Posts: 348
Joined: Nov 2016
Reputation: 3





Rest in Peace David.
12-04-2016, 02:56 AM
Post: #7
Ontical
Wizard


Posts: 566
Joined: Nov 2016
Reputation: 11

He wasn't forgotten. He's in school textbooks, has a measurement of magnetic flux named after him and that measurement and his face appear on the Serbian currency!
---
12-04-2016, 04:25 AM
Post: #8
aries
Wizard


Posts: 348
Joined: Nov 2016
Reputation: 3

LMFAO.
User(s) browsing this thread: 1 Guest(s)